How To Select A Wedding Ring Based On The Wedding Theme
Weddings are the event of a lifetime that comes with so much joy and thrills. Being the man or woman of the day is something to look forward to. You can also agree when growing up, a theme or destination wedding is a dream come true.
Your wedding theme gives you the feel of uniqueness and makes you own your day. But, it can be quite a huge task due to the various options and styles before you.
However, many match the outfits with the themed venue, leaving the wedding rings. Why not match the wedding rings as well and make everything go in harmony? Thus, this article will give tips to get the perfect wedding ring for your theme wedding.
Stick around!
Wedding Themes And Their Matching Rings
Every event that comes with a theme has an outfit that goes with it. A wedding event is not an exception, so one must have rings that follow the theme.
Accordingly, here are wedding rings that pair well with different wedding themes.
1. Twisted Bohemian
The Celtic and twist rings are a great choice for wedding rings. Due to the mythology surrounding them, Celtic rings go well with a bohemian wedding theme. This is because the knots or twists have no beginning and end; hence they stand for an eternal connection.
Also, the wedding dress and accessories should be less formal than a traditional wedding as one can use a Celtic and twist ring for this kind of theme wedding.
The Celtic and twist rings are a great choice for wedding bands. Due to the mythology surrounding them, Celtic rings go well with a bohemian wedding theme. This is because the knots or twists have no beginning and end; hence they stand for an eternal connection.
As such, even a simple or any other themed wedding can benefit from the look of these rings. However, they mostly appeal to people with a bohemian bent because they are different from the ordinary. Also, they fit the natural touch of the wedding theme.
Finally, You can do whatever you want for your bohemian wedding as long as it is unique and extraordinary.
2. Fairytales and Tinted Emerald
The fairytale theme is one of those enchanted wedding themes we always fantasize about as young girls.
Most of us had images of our favorite "princess" outfits in mind, like Cinderella's white gown. But, as adults, we want to give this wedding a more mature touch while keeping its beauty.
But a fairytale wedding can be expensive because it requires a lot of designs to give it that particular wedding style. Most decors include candles, columns, golden flatware, cutlery, etc. Also, there will be flowers for bouquet arrangements.
Now let's remember the wedding dress and its accessories. The bride will wear her ball gown and crown, looking like a princess. Also, her prince will get his outfit to match the theme. And the perfect ring is a tinted emerald-cut diamond ring.
The color of this diamond ring brings out the shine and magic of this kind of wedding. You get to look beautiful with your crown, ball gown, hair, and, best of all, your diamond ring. The perfect shine and look for your fairytale theme wedding.
3. Vintage Wedding Theme
If the wedding has a retro theme, the styling will be like the bygone era. For instance, most vintage-inspired weddings refer to the Victoria era and the 1920s or 1940s. The wedding attire, hair, and makeup, as well as the venue's styling, floral arrangements, and decorating choices, will show this concept.
Your wedding ring can also boost the vintage look. So the ring that fits this theme is a vintage ring. These rings have that antique feel from the retro era or mid-century. When it comes to style, vintage rings come in a wide variety of designs. from simple bands to elaborate gemstone pieces. Choosing a style that compliments your outfit and personal taste is important.
More so, a sit-down dinner may or may not be in a vintage wedding. But a cocktail party fits the vintage concept better. This is because cocktail parties were quite popular in the Roaring '20s.
More so, there are many ways to enhance this theme, like jazz music and antique photo booths. Of course, you can also have vintage wedding cars and a place that fits that era.
Even though a vintage wedding might be formal, you may choose to leave some customary events. So it all depends on your perfect day and your taste.
4. The shine of Diamond in Rustic Theme
A rustic wedding theme is a fashion scheme that draws on the ease of country living. It also makes use of nature. Rustic weddings use wood, metal, and wild bouquets for design.
It works best In barns, sheds, vineyards, and outside beneath a marquee or tree. And the reception will consist of a sit-down dinner. In certain country weddings, the ceremony and reception may take place side by side or on the same site.
While certain formality might be present, a rustic wedding is often informal and laid back rather than too formal. So, a few or many people may be part of the bridal party, depending on the couple.
Hence, a simple wedding band with a twig or leaf design is the best due to its simplicity. It can also have the design of a branch in either gold or silver or with diamonds.
5. Beach Wedding Theme
A beach wedding is often laid-back, and guests do not need to wear overly formal attire. In most beach weddings, the ceremony takes place on the sand, and the reception will be close by.
Also, the couple may decide to dress casually. Some brides even go barefoot or opt for sandals. Thus the wedding ring that fits the theme is an ocean wave band. The waves are inscribed to the band giving it a simple yet unique look.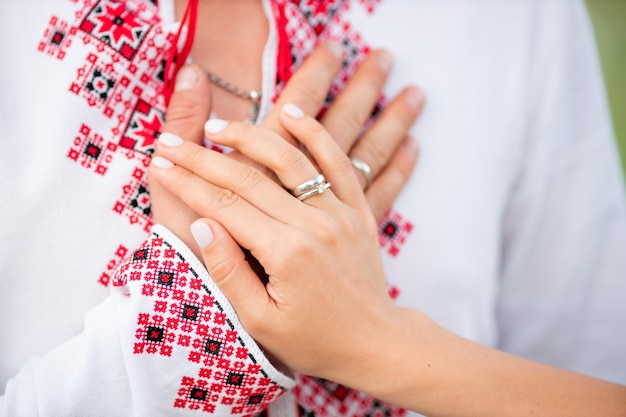 More so, a beach wedding can include a small or large bridal party. And some couples even opt for a private ceremony with just a small group of loved ones present.
A beach wedding can be a sit-down or cocktail affair. This is done with as many or as few formalities as the couple prefers.
Bottom Line
Weddings are the best things that can happen to anyone. And getting your dream theme wedding makes it more exciting.
So with the themes and their matching rings listed here, you do not have to worry much. You can pick a theme and get all you need to make that theme wedding a dream come true.
Additional