The Different Types Of Med Spa Treatments And What They Can Do For You
If you're looking for a way to improve your appearance and feel more confident, you may want to consider the med spa treatments at a Palm Beach med spa.
There are many different types of treatments available, and each one has its own benefits. In this blog post, we will discuss the different types of treatments and what they can do for you. We'll also provide some tips on how to choose the right treatment for you. 
So, if you're ready to start looking better, keep reading!
What Type Of Treatments Does Med Spa Do
Before going into the med spa treatments, it will be better to analyse the type of treatments and their functions over the skin.
Here are some of the names of top med spa treatments which are effective for health.
1. Botox
One of the most popular med spa treatments is Botox. Botox is a safe and effective way to reduce wrinkles and fine lines. It can also help to improve your skin's texture and tone.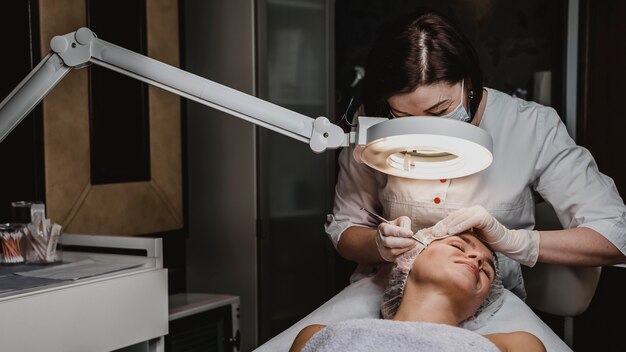 Botox is a neurotoxin produced by the bacterium Clostridium botulinum. It is the most commonly used cosmetic procedure in the United States. 
Botox injections are used to temporarily reduce the appearance of wrinkles by paralyzing the muscles that cause them. 
The effects of Botox typically last for three to four months, and the procedure can be repeated as needed.
2. Laser Hair Removal
Another popular treatment at med spas is laser hair removal. Laser hair removal is a safe and effective way to remove unwanted hair from your body. It can also help with med spa treatments, which improve your skin's appearance. The med spa laser treatments remove the hair in a gentle way and leave the skin flawless. 
What Is Laser Hair Removal?
Laser hair removal is a cosmetic procedure that uses laser energy to destroy the hair follicles from the root. The procedure can be performed on almost any area of the body, including the face, arms, legs, bikini line, and chest. 
Laser hair removal med spa treatments are pretty effective on darker hair and light skin, but they can also be used on lighter hair and darker skin with special lasers. The length of the treatment depends on the size and location of the area being treated, but most sessions last anywhere from 10-30 minutes.
3. Dermal Fillers
Dermal fillers are substances that can be injected into the skin to add volume and smooth out wrinkles. There are many different types of dermal fillers made from a variety of materials, including hyaluronic acid, collagen, and fat. 
When it comes to med spa treatments and injections, there are a lot of misconceptions out there. Many people think that injections are only for pain relief or for getting rid of wrinkles, but there are actually a wide variety of injection types and uses. 
Dermal fillers are injected into the skin in order to add volume and reduce the appearance of wrinkles. They can be used to increase cheek volume and smooth out crow's feet. 
Injections are usually administered by a dermatologist or plastic surgeon. The doctor will first clean the area to be injected and then use a fine needle to insert the filler material just below the skin surface. The whole process takes just a few minutes, and the results are immediate. 
Fillers are typically safe and well-tolerated, with few side effects. However, as with any injections, there is a risk of bruising, swelling, and infection. Before undergoing med spa treatments with dermal fillers, it is important to consult with a board-certified dermatologist or plastic surgeon to discuss your goals and expectations.
4. Lip Filler
Lip filler is a type of cosmetic surgery that can be used to add volume and definition to the lips. The med spa treatments and the procedure are relatively simple and involve injecting a dermal filler into the lips.
Lip fillers are made from a variety of different materials, but the most common type is hyaluronic acid. This substance occurs naturally in the body and helps to keep the skin hydrated and plump. 
These types of med spa treatments can be used to correct varieties of different concerns, including thin lips, asymmetrical lips, and wrinkles around the mouth. The results of lip filler are typically temporary, lasting for six months to a year. However, touch-ups may be necessary to maintain the desired look.
Consider reaching out our illaborated Information on Lip pearcing
5. Under Eye Treatment
At our med spa, we offer a variety of under-eye med spa treatments to help you look and feel your best. Whether you're dealing with dark circles, puffiness, or fine lines, we have a treatment that can help. 
What Is An Under Eye Treatment?
Under treatment is a procedure to minimize the wrinkle appearance and minimize the eye bags appearing chances. Usually, from dark circles to wrinkles and eyebags treatments, all come under his packages.
Our team of experts will work with you to determine the best course of action based on your unique needs. We offer both non-invasive and invasive options, so you can choose the level of commitment that's right for you. And because we know that every client is different, we offer customized med spa treatments that are tailored to your specific goals.
Choosing The Right Treatment
There are many different types of med spa treatments available. So, how do you choose the right one for you? Med spa treatments for acne will go better for you or the treatment for making your skin soft and dewy; the selection is tough.
Here are some tips which work as better guidance. 
– Talk to your doctor or a med spa professional. They can help you decide which treatment is right for you.
» Consider your goals. What do you want to achieve with treatment?
Once you have set your goals, you can work with your med spa treatments and practitioner to develop a treatment plan that will help you achieve the results you desire. By taking the time to set realistic goals and develop a customized treatment plan, you can ensure that your med spa experience is both enjoyable and productive.
– Choose a treatment that is safe and effective. Be sure to ask about side effects and risks.
» Consider Your Budget
Med spa treatments can be expensive, so be sure to consider your budget when making a decision.
In today's economy, it's more important than ever to be mindful of our spending. But just because we're being careful with our money doesn't mean we have to sacrifice our appearance. There are plenty of ways to keep up with the latest trends without breaking the bank.
For starters, take advantage of med spa specials and promotions. Many centres offer discounts for first-time clients or for multiple treatments. You can also ask about package deals or membership programs that can save you money in the long run.
There are many other treatments available at med spas, including facials, massages, and body wraps. Each treatment has its own benefits, so it's important to choose the right one for you.
We're Here To Help
If you're ready to improve your appearance and feel more confident, contact Anushka hair salon in Palm Beach today. There are many different treatments available, and each one has its own benefits. So, don't wait any longer. Make an appointment for med spa treatments today! You deserve to look and feel your best!
Additionals: