The Best Stretch Jeans for Men
Stretch jeans include a touch of spandex, making denim considerably more comfortable. However, finding the ideal pair of stretch jeans may be difficult. Taking the risk of purchasing high-quality stretch jeans online is particularly challenging.
Don't be concerned. This article will assist you by providing a short glance at the best stretch denim jeans for men available.
Some Best Stretch Jeans For Men:
Here is a full listicle of the best men's stretch jeans. Take a look at each to get some exemplary styles.   
1. Sene (Ever Jean)
Sene's stretch jeans are our personal favourites. They are not only composed of superior Japanese stretch fabric but they are also tailored to your specific measurements. To find your fit, take Sene's SmartFit Quiz in 60 seconds. No measuring tape is required. 
Unlike the other standard-sized pants on our list, Sene's jeans are custom-made to fit. The price is reasonable, and the fit and quality are excellent. 
2. Calvin Klein (Skinny Boston Blue Jeans)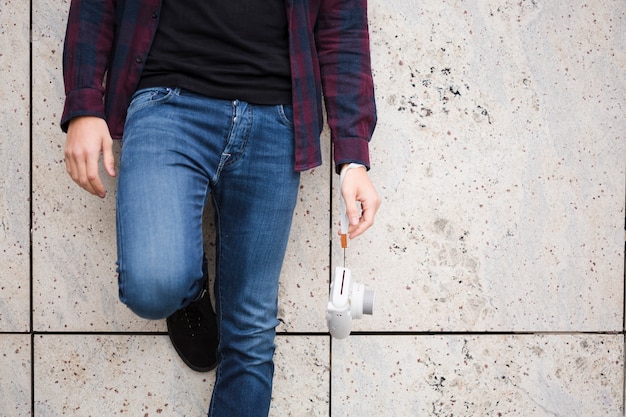 Calvin Klein jeans are hard to go wrong with. It's often termed by the happy customers as  "the best skinny stretch jeans men." The category-defining brand has reinterpreted an old favourite. These Boston Blue jeans are designed with a stretchy denim composite with fade-resistant technology, so you may wear them for years to come. This contemporary spin on an ancient classic has a smart style. 
3. 7 For All Mankind (Luxe Sport Slimmy)
If you want a pair of jeans that will last a long time, choose this pair. 7 For All Mankind is recognized for producing long-lasting, high-quality goods. These jeans are as functional as they are fashionable. They have enhanced recovery and unfettered mobility when paired with Nickel hardware. You'll be both comfy and elegant with these jeans.
 4. Joe's Jeans (The Brixton)
Joe's Jeans' jeans are fashionable and may be worn up or down. The flat colour on a softer fabric with structure is very adorable. These jeans have enough stretch and rebound to last for years in your closet. These jeans are for the die-hard denim fan eager to branch out.
5. Citizens of Humanity (Bowery Standard Slim Fit Jeans)
These jeans have a tapered length and a narrow ankle for a streamlined aesthetic. These jeans are adorable because of the sharp structure of their stretchy fabric. These jeans are made of twill and a flex fabric blend that allows movement.
6. Rag & Bone (Fit 1 – Sonora)
Rag & Bone has released a new pair of skinny jeans with stretch for men. These stretch jeans, made of cotton and elastane, have great stretch and do not restrict mobility. These jeans have a rustic appearance and a different wash.
7. Acne Studios (North Skinny Fit)
Acne Studios does not disappoint any wise denim shopper. Simple style combined with a stunning hue guarantees that you'll stand out in these jeans. Because they are made of cotton, elastomultiester, and elastane, these jeans keep their form and structure.
 8. Levis (501 Original Jeans)
Levis Stretch men's jeans have been redesigned for the present day based on the original legendary pair of Levis pants. These jeans, now produced with a cotton, polyester, and elastane combination, support motion and rebound well. Levis maintains complete transparency in its environmental activities.
9. APC (New Standard)
APC is known for its high-end flair, but their denim is just as good. They've delivered their latest stonewashed indigo denim in Japanese stretch fabric. The five-pocket style is paired with a straight leg cut. With orange topstitching and a button fly, these jeans are for individuals who like to stand out.
10. Everlane (The Slim Fit Jean)
Everlane produces a substantial product at a reasonable price. These slim-fit stretch jeans are composed of high-quality Japanese stretch denim. These jeans should be a mainstay in your closet, slightly tapered shape, and an average rise. There are no jeans at this price point that keep this degree of quality, eye-catching colour, and stretch.
Everlane goes above and above its commitment to quality stewardship by properly recycling 98 percent of the water used in the denim manufacturing process.
How to Find Jeans That Fit in Four Simple Steps
There is no right or wrong way to wear pants. On the other hand, an excellent fit balances your proportions and showcases your most outstanding features. 
To get jeans that fit, you must examine the four components of the jeans' anatomy, impacting how well your pants fit. 
1. The Shape of the Leg 
The shape of the leg determines the numerous sorts of fits. The most popular fit styles are slender, slim, normal, and loose. In addition, the leg might be straight or tapered. 
Remember always to try on new jeans, or at the very least carefully measure them against a pair you currently possess. One company considers a standard fit the same as what other brands consider a skinny fit. 
2. The Rise
The rise is the measurement from the bottom of the crotch to the top of the waistband of waist jeans. The curved rear rise of stretch jeans provides a figure-hugging fit. 
Rises are classified into four types: low rise, mid-rise, high rise, and drop crotch. The rise will give you a good-looking and comfortable fit. 
3. The Length
The length is the inseam measurement, which begins at the crotch and extends to the leg opening. 
When trying on jeans without shoes, the front hem should sit on top of your instep, and the rear should kiss the floor. Just remember to account for some shrinking, especially with pre-shrunk denim.
4. The Denim
There are two primary alternatives to consider for denim: stretch or no stretch. The main benefit of having stretch is that the jeans become much more comfortable, especially if they are a thinner fit. On the other hand, no stretch denim works well for regular and loose fits.
Slim and skinny fits are the most popular. They may be pretty flattering if you have the right body type. The issue is that not everyone who wears them does.
To return to the opening, a good fit balances your dimensions. So, to achieve a fit that is appropriate for your body type, you must first consider your build.
Bottom Line
I hope you will love the above-explained stretch jeans styles. Do let us know your experience with them in the comment section below. 
Stay cool, stay in fashion and keep following www.followthefashion.org.
Read Also: